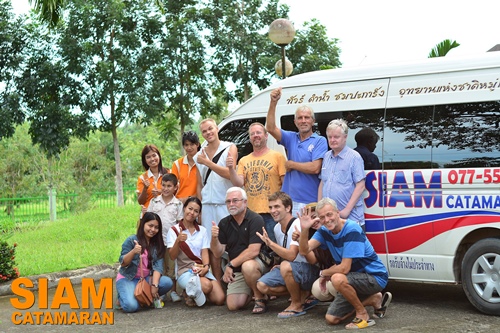 "All you journey, we are ready to take care of you"
Siam Catamaran Co.,Ltd. organized charter tours. (Private tourism) it means traveling at specific groups.
Customers can choose or want the tour to go to the airport, bus station, train station or the appointment such
as Bangkok. "Door To Door" can receive and send you to front yard. Customers will be comfortable and good
care from our team.
---

---

Siam Catamaran Co.,Ltd.

have organized tour that needs of customers
who want privacy travel comfort and ability. It is a good way to travel with a variety of options no matter if it's one day trip / package tour 2 day 1 night,
3 day 2 night, 4 day 3 night, 5 day 4 night, 6 day 5 night or 7 day 6 nights.
We have selected hotels,accomodations, resorts, food, drinks, shuttle and
tour trips. To suit the needs of customers.


Traveling with a variety of routes is unique in Chumphon Province and
nearby provinces. Make the trael of customers save time or may cause more travel time.

The tour that the company has collected. Is a tour that expresses identity, beauty and nature and the culture that reflects the place.

SIAMCAT CHARTER

is the right answer for personal travel, suitable for all types of customers.
Whether family groups, friends groups. Traveling with intimate acquaintances or close friends making it more valuable because there will be both memorable stories, smiles and laughter, that makes your journey more meaningful. Hopefully traveling like this will be another choice for you and make your journey no longer boring.


| | |
| --- | --- |
| | Tangible tour operator certified by the travel agency and the business development department ministry of foreign affairs can trust 100%. |
| | Is a tour company that has been awarded the Tour Business Standard Certification Mark from the Ministry of Tourism Represents the standard in service, satisfaction and customer care. |
| | Service from the heart of every team, speak fluent, honest, responsible and consider the interests of customers first. |
| | Tour arrangements for all customers with heart impress you from contacting the team on departure until returning. |
| | Can arrange a tour program in the south Directly to the customers and possible In the right budget Taking into account the main and finer elements such as travel distance, food, accommodation and travel items. |
| | Coordination for special privileges for customers. That will impress you in each group. |
| | After sales service in monitoring, evaluating, evaluating, satisfying, and receiving feedback In order to continuously improve the service for all travel groups. |
| | We consider the benefits in all aspects. And the safety of customers is important. |
| | Regularly training the team to create knowledge, understanding and consciousness To improve service efficiency. |